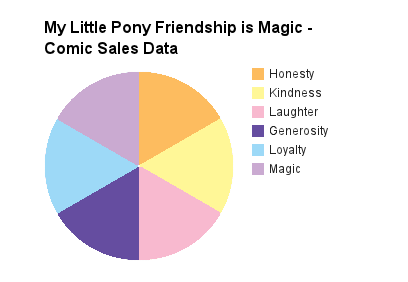 ICv2 has released comic sales data for the top 300 comics released in February 2013.
ICv2 has released comic sales data on the top 300 comics from December 2012. We have provided a little analysis for the My Little Pony comic sales. Join us after the jump for statistics, analysis and charts!

My Little Pony: Friendship is Magic issue #3 was pushed back from January to February due to shipping delays just before the new year. This means that there was technically no new comics in January for MLP. This will make a slight anomaly in some of the graphs so its important to make that footnote now.
My Little Pony: Friendship is Magic #3 ranked at 45 on the top 300 list. The first issue of the MLP Micro-Series, My Little Pony: Frienship is Magic – Twilight Sparkle, ranked at 62. The books sold 43,579 and 34,435 issues, respectively. February also saw an exclusive 2-pack of issue 1 and 2 for Hot Topic. This 2-pack ranked in at 196 selling 8,988 copies.
Top 10 IDW Books for February 2013
| Rank | Title | Issues Sold |
| --- | --- | --- |
| 45 | MY LITTLE PONY FRIENDSHIP IS MAGIC #3 | 43579 |
| 62 | MY LITTLE PONY MICRO SERIES #1 TWILIGHT SPARKLE | 34435 |
| 116 | GI JOE #1 | 17553 |
| 129 | TMNT ONGOING #18 | 16172 |
| 131 | TMNT ONGOING #19 | 16125 |
| 141 | STAR TREK COUNTDOWN TO DARKNESS #2 | 14492 |
| 142 | GHOSTBUSTERS #1 | 14442 |
| 157 | TMNT SECRET FOOT CLAN #3 | 12868 |
| 159 | DOCTOR WHO PRISONERS OF TIME #2 | 12730 |
| 166 | ROCKETEER HOLLYWOOD HORROR #1 | 12488 |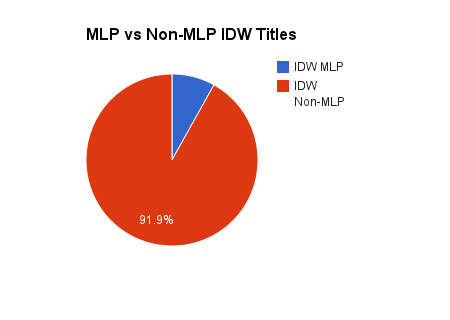 Of the 37 IDW books on sale in February, 3 books were My Little Pony related. That accounts for 8.1% of IDW's offerings for the month.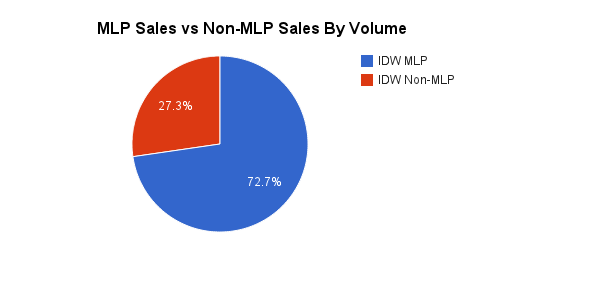 Looking at the actual sales volume of the MLP vs Non-MLP related books tells a slightly different story. Despite only being about 8% of IDW's offerings, My Little Pony accounted for more than 27% of total issues sold.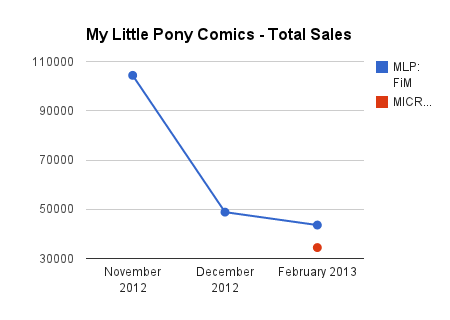 You can see the sharp and expected drop off from issue 1 to issue 2. This was exaggerated because of the number of variant covers for the first issue as well. Issue 2 to 3, though, is fairly stable. The Micro-Series had a strong start, though, not as strong as the level the main on-going series is settling around.
Disclaimer:
This is strictly sales to comic specialty shops through Diamond and does not include newsstands, book stores or other channels, which I would assume to include digital sales. The disclaimer on the source page states:
Most of the titles on this chart are also distributed to Europe by Diamond UK, which can account for significant sales for the publisher, ranging from 3-20% of the U.S. numbers. Sales by Diamond UK are not included in the numbers above.
One other factor to consider is that sales through Diamond and other comic distributors are non-returnable to retailers. That means that there is a considerable unknown percentage of books unsold at the retailer level, probably amounting to 5-20% of sales.
So this also does not seem to include European sales. That being said, there is no place where this data is collated and publicly published. ICv2 is considered to be the most accurate publicly available data for comic sales.