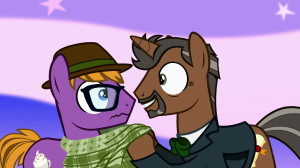 Bronies: The Extremely Unexpected Adult Fans of My Little Pony, the documentary that takes a look at the world of Bronies, has finally been released! Anyone who preordered a digital copy through the Kickstarter should have gotten an e-mail with instructions on how to download it. If you weren't part of that group you can still pick up a digital copy for $12.99 from Scrnland. The download is available in many formats and even the 1080p version can be downloaded in a matter of minutes if you have a fast Internet connection.
I had a chance to check out the movie earlier today. If you haven't had a chance to watch it yet you can watch the trailer below. Keep reading for my review of the film.
There were no big surprises in this doc, as it's pretty much as it was previously stated to be. It's not making fun of Bronies or parading them around as a freak show, but rather trying to portray them in good light for a change, and in doing so getting us to see these Bronies for the people they are, and to demonstrate the troubles they might have to go through in trying to be Bronies.
The great John de Lancie, who first announced the doc at Ottawa Comic Con last year, narrates. He is actually animated as a pony, and sings, in some pretty amazing looking parts of the doc. For the most part there is little narration however, as the documentary usually lets the people and interviews speak for themselves.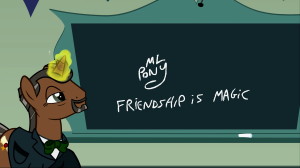 The focus of the documentary is BronyCon, a My Little Pony convention taking place in New York last summer and also BronyCon UK, a similar convention in England. It's really focusing on the people that attended this convention, more specifically some key people that we follow in the days leading up to the convention and throughout the convention itself.
I'll briefly touch on some of the main players in the film.
Alex is from a small town in North Carolina. The hicks in his town give him a hard time for being a Brony, going so far as to intimidate him with physical violence and destroying his property.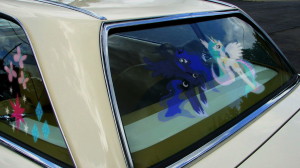 Daniel is a British guy with Aspergers who is able to come out of his shell a bit thanks to the My Little Pony fandom.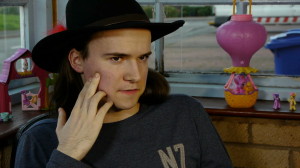 Lyle is a Brony who's full of shame! His disapproving father could easily be a stand in for almost any non Brony adult who looks down at the fandom.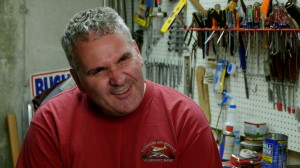 They also looked at some of the talent in the fan community who are famous amongst Bronies.
The Living Tombstone is an Israeli Brony who makes great remixed music. Since he's from Israel he doesn't know any other Bronies, but meets a ton at BronyCon!
LaserPon3 does amazing laser shows and did one live at BronyCon.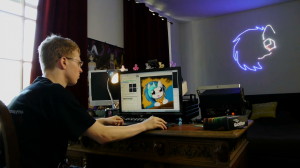 Nadine and Ben are two Germans who met and fell in love because of My Little Pony. Nadine does custom My Little Pony figures and can't keep up with the demand.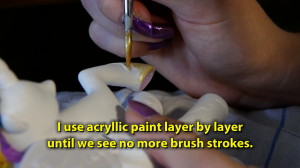 The documentary also includes a lot of the talent from the show as many of them were in attendance at BronyCon. Tara Strong, voice of Twilight Sparkle, voices some of the animated segments and also gets a lot of screen time as she was quite involved with many aspects of the documentary. Lots of others also make appearances such as Lauren Faust, creator of the show as well as voice actors Peter New, Lee Tockar, Cathy Weseluck and many more.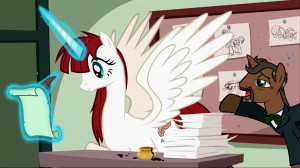 Looking at the convention to me seemed like a fairly standard sight, but this may simply be because I've been to so many. For the uninitiated it might be quite remarkable to see how many dedicated fans come out to these kind of things wearing costumes and who are so ready and willing to just have a good time.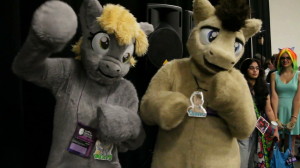 One of the big takeaway messages of the doc is one I've heard many Bronies profess, that being that My Little Pony is a great way to reiterate childhood morals to adults. I'm not sure I put that much importance in this idea. Any stupid kids show offers us the same kind of simplistic "share your milk and cookies" morals. They are not bad, and not something that any adult should ignore, but this is hardly what sets My Little Pony apart from the pack. But then maybe I shouldn't be so negative, because I guess I'm supposed to be basing my life off of the lessons a show made for children tells me?
I'm not entirely sure who the target audience of this doc really is. As a My Little Pony fan I enjoyed watching it but didn't find there was a ton to learn. I was already on board with Bronies not being complete and total weirdos and didn't feel I got any specific new insight, which is what you should want from a doc. Ideally the audience for this doc would be people who don't know much about the fandom. They would be able to learn a lot about this world they know very little about as it's shown in a very honest and positive light. I'm unsure if this documentary will really reach that audience, as it currently seems to mostly be something that is being watched the fans themselves. Perhaps this will serve as a good tool for Bronies to be able to show others who don't really understand their world so that they can better appreciate where they're coming from.
Finally, the credits for the film include a ton of fans' names, as part of many Kickstarter levels included a credit. My name, Adam Gardner, appears in the "Thanks" section. I guess I missed the memo telling me to put something funny or a screen name in there…