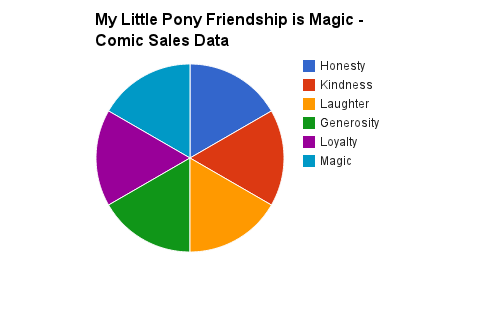 ICv2 has released comic sales data on the top 300 comics from December 2012. We have provided a little analysis for the My Little Pony comic sales. Join us after the jump for statistics, analysis and charts!
Buy the comic on Amazon!
!
My Little Pony: Friendship is Magic #2 ranked 54th overall among the top 300 comics for December 2012. The reprinting of the first issue came in at rank #229 with 6,651 additional books.
Top 10 IDW Books for December 2012
| | |
| --- | --- |
| MY LITTLE PONY FRIENDSHIP IS MAGIC #2 | 39841 |
| STAR TREK TNG DOCTOR WHO ASSIMILATION #8 | 20553 |
| TEENAGE MUTANT NINJA TURTLES #17 | 16703 |
| JUDGE DREDD #2 | 13995 |
| MAGIC THE GATHERING PATH OF VENGEANCE #1 | 11412 |
| DOCTOR WHO VOL 3 #3 | 11277 |
| DANGER GIRL GI JOE #5 | 10454 |
| LOCKE & KEY OMEGA #2 | 10244 |
| TRANSFORMERS ROBOTS IN DISGUISE #12 | 10161 |
| STAR TREK NEXT GENERATION HIVE #3 | 10097 |
Despite the sharp drop off from the first issue, you can see here that MLP is still the top title for IDW for the second month in a row by a significant margin.
MLP vs Non-MLP IDW Titles:
Only 2 of IDW's 30 titles were MLP related in November 2012, or 6.9% of its offerings.
MLP Sales vs Non-MLP IDW Sales by Volume:
Despite only being about 6.9% of titles for IDW, MLP made up for it with 15.2% of IDW's overall sales (46,492 books).
Historical sales of MLP Comic: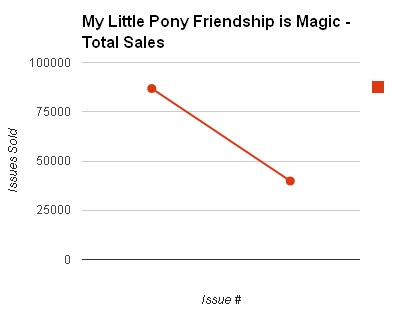 I'm still fiddling around with these charts. Its not super obvious what the values are here (#1: 86,779; #2: 39,841), but the sharp fall off from the first book occurred as expected. It will be interesting to see how the book performs now that there will be fewer incentive covers (assumption!) and purchasing will be more indicative of the quality of the product instead of speculation on the first issue.
Disclaimer:
This is strictly sales to comic specialty shops through Diamond and does not include newsstands, book stores or other channels, which I would assume to include digital sales. The disclaimer on the source page states:
"Most of the titles on this chart are also distributed to Europe by Diamond UK, which can account for significant sales for the publisher, ranging from 3-20% of the U.S. numbers. Sales by Diamond UK are not included in the numbers above.
One other factor to consider is that sales through Diamond and other comic distributors are non-returnable to retailers. That means that there is a considerable unknown percentage of books unsold at the retailer level, probably amounting to 5-20% of sales."
So this also does not seem to include European sales. That being said, there is no place where this data is collated and publicly published. ICv2 is considered to be the most accurate publicly available data for comic sales.