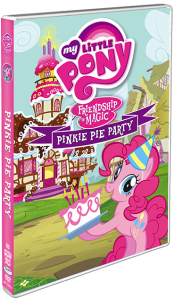 It looks like a new My Little Pony: Friendship is Magic DVD is coming our way from Shout Factory. The DVD will be called Pinkie Pie Party and will be released January 29th as a Wal-Mart exclusive.
The DVD will include the episodes:
Feeling Pinkie Keen
Party Of One
Baby Cakes
A Friend In Deed
Too Many Pinkie Pies
These episodes span from Season 1 to the currently airing Season 3.
Press release is after the jump!
[Via Toonzone]

On January 29th, Shout! Factory Kids, in collaboration with Hasbro Studios, will release MY LITTLE PONY: FRIENDSHIP IS MAGIC – PINKIE PIE PARTY on DVD exclusively at Walmart!

MY LITTLE PONY: FRIENDSHIP IS MAGIC –

PINKIE PIE PARTY

AVAILABLE EXCLUSIVELY AT WALMART

JANUARY 29, 2013

Los Angeles, CA – Let's Paaaarrr-ty! My Little Pony: Friendship Is Magic – Pinkie Pie Party is coming to DVD January 29th from Shout! Factory Kids in collaboration with Hasbro Studios! Bonus features include a Sing-Along and a Party Activity Kit. My Little Pony: Friendship Is Magic – Pinkie Pie Party is priced at $14.97 SRP and will be available exclusively at Walmart.

Come join the fun! It's the biggest collection of parties in Ponyville and you're invited! Get your Pinkie Pie party outfit ready to enjoy five outrageously awesome parties with every pony's favorite friends — Twilight Sparkle, Apple Jack, Fluttershy, Rainbow Dash, Rarity, Spike and the ultimate party planner herself, Pinkie Pie!

The My Little Pony: Friendship is Magic series is currently airing on The HUB TV Network.

My Little Pony: Friendship Is Magic – Pinkie Pie Party Episodes Include:

Feeling Pinkie Keen
Party Of One
Baby Cakes
A Friend In Deed
Too Many Pinkie Pies

Bonus Features:
Sing-Along
Party Activity Kit

Program Running Time: Approx. 110 minutes

About Hasbro Studios:

Hasbro Studios is the Los Angeles-based production division of Hasbro, Inc. (NASDAQ: HAS). The studio develops and produces shows based on Hasbro's world class brands, including TRANSFORMERS, MY LITTLE PONY, LITTLEST PET SHOP and SCRABBLE. Many of these shows air on The Hub, a television network for kids and their families. Studio programming can also be seen in more than 170 countries globally. The Hub is a joint venture between Hasbro and Discovery Communications (NASDAQ: DISCA, DISCB, DISCK).

About Shout! Factory:

Shout! Factory, LLC is a diversified multi-platform entertainment company devoted to producing, uncovering, preserving and revitalizing the very best of pop culture. Founders Richard Foos, Bob Emmer and Garson Foos have spent their entire careers sharing their music, television and film favorites with discerning consumers the world over. Shout! Factory's DVD and Blu-Ray™ offerings serve up feature films, classic and contemporary TV series, animation, live music and comedy specials in lavish packages crammed with extras. Shout's audio division boasts GRAMMY®-nominated box sets, new releases from storied artists, lovingly assembled album reissues and indispensable "best of" compilations. In addition, Shout! Factory maintains a vast digital distribution network which delivers video and audio content to all the leading digital service providers in North America. Shout! Factory also owns and operates Timeless Media Group, Biograph Records, Majordomo Records, HighTone Records and Video Time Machine. These riches are the result of a creative acquisition mandate that has established the company as a hotbed of cultural preservation and commercial reinvention. Shout! Factory is based in Santa Monica, California. For more on Shout! Factory, visit shoutfactory.com