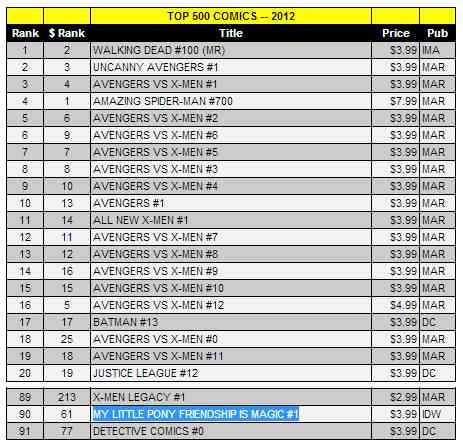 ICv2 has released the Top 500 Comics of 2012 "based on Diamond Indexes and Publisher Title Data". See the disclaimer after the jump for more info on the basis of these numbers.
In a year dominated by Marvel and DC, Image Comic's Walking Dead #100 took the top spot with Marvel titles filling out the rest of the top 10. In fact, we don't even see a DC comic until the 17th spot. IDW made its top spot on the list ranked at 90. What book did IDW top out with at 90? None other than My Little Pony: Friendship is Magic #1.
Join us after the jump for more analysis and news.

Regular purveyors of this blog may remember we put together some statistics on the first issue's sales to put some perspective on things.
These rankings were all based on sales quantities. There was a separate ranking based on sales revenue. My Little Pony: Friendship is Magic actually did even better coming in at rank 61 for its slightly higher US$3.99 price point.
Disclaimer:
There was no real indication of what these numbers include. In the monthly rankings, a disclaimer is provided indicating that the numbers only reflect North American comic shops. This excludes digital sales, supermarkets and newsstands. Here is our normal disclaimer for the monthly posts:
This is strictly sales to comic specialty shops through Diamond and does not include newsstands, book stores or other channels, which I would assume to include digital sales. The disclaimer on the source page states:

"Most of the titles on this chart are also distributed to Europe by Diamond UK, which can account for significant sales for the publisher, ranging from 3-20% of the U.S. numbers. Sales by Diamond UK are not included in the numbers above.
One other factor to consider is that sales through Diamond and other comic distributors are non-returnable to retailers. That means that there is a considerable unknown percentage of books unsold at the retailer level, probably amounting to 5-20% of sales."

So this also does not seem to include European sales. That being said, there is no place where this data is collated and publicly published. ICv2 is considered to be the most accurate publicly available data for comic sales.