Gameloft announced an update to the iOS version of their My Little Pony game. While the game is out on both Android and iOS devices, the news update on their site only mentioned an update for the iOS version. This winter update brings us many bug fixes along with three new ponies; Teacher's Pet, Pip Squeak, and Bowling Pony. It sounds like an Ice Cream Shop and Log Cabin have also been added.
I think we can all agree here that the real story is that another Big Lebowski pony was added to the game.
(More after the jump!)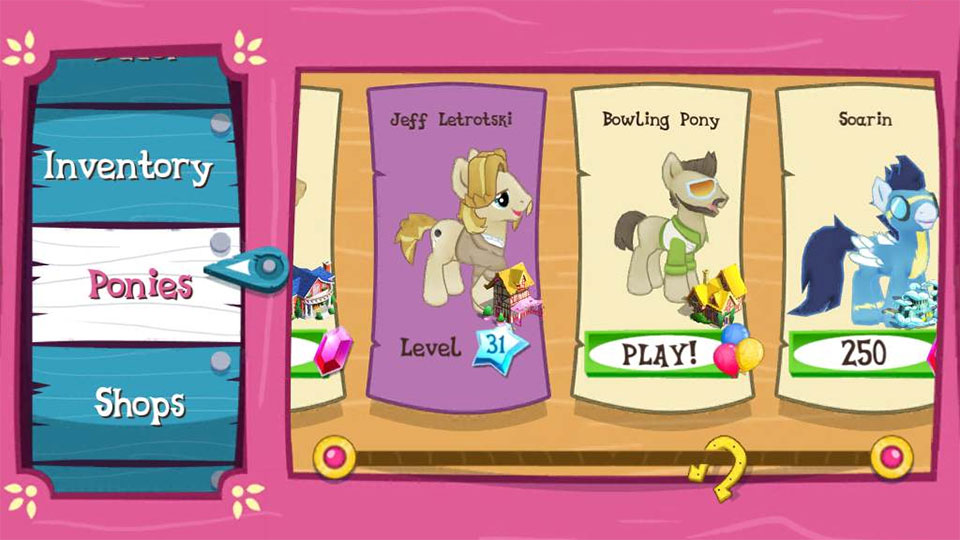 Fans of the show will know that the 6th episode in Season 2, The Cutie Pox, had a scene in a bowling alley featuring likenesses to several characters from The Big Lebowski. We first wrote about that episode here. This game has introduced the Walter Sobchak pony as Bowling Pony for the game.
What I also didn't realize was that it appears that a couple of the other Big Lebowski Ponies were already in the game and given actual names. Jeff Letrotski and Jesus Pezuna.
And here they are as they appeared in the cartoon (and in our previous article).
You can get the game on iTunes here.
You can read a review another staff member made of the game here.
It should also be noted that several of the more expensive ponies have been dramatically lowered in price after significant user backlash.