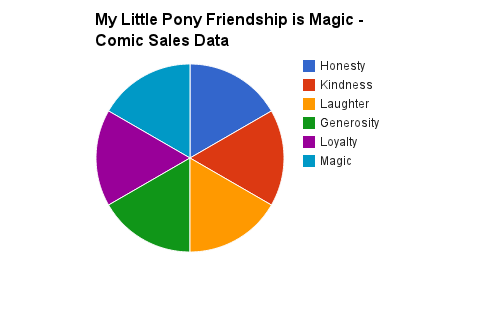 The success of the My Little Pony: Friendship is Magic comic is pretty incredible. We are not wont to just say things like that though. We wanted to provide some data to back that up.
Join us after the break for a brief look at some of the numbers regarding the MLP comics released for November 2012.
[SOURCE]
My Little Pony Friendship is Magic #1 ranked 15th overall among the top 300 comics for November 2012.
Frankly, this number ranking would have been higher, but the timing coincided with Marvel's relaunch of many titles which led to significant increases in sales for each of those books.
Top 10 IDW Books for November 2012
| | |
| --- | --- |
| MY LITTLE PONY FRIENDSHIP IS MAGIC #1 | 80128 |
| JUDGE DREDD #1 | 32266 |
| STAR TREK TNG DOCTOR WHO ASSIMILATION #7 | 21012 |
| TEENAGE MUTANT NINJA TURTLES ONGOING #16 | 17140 |
| LOCKE & KEY OMEGA #1 | 14246 |
| MAGIC THE GATHERING SPELL THIEF #4 | 12329 |
| DANGER GIRL GI JOE #4 | 10769 |
| ROCKETEER CARGO OF DOOM #4 | 10699 |
| FRANKENSTEIN ALIVE ALIVE #2 | 10685 |
| TRANSFORMERS REGENERATION ONE #85 | 10568 |
MLP vs Non-MLP IDW Titles: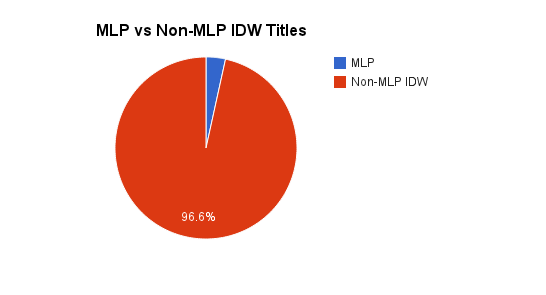 Only one of IDW's 29 titles was MLP related in November 2012, or 3.4% of its offerings.
MLP Sales vs Non-MLP IDW Sales by Volume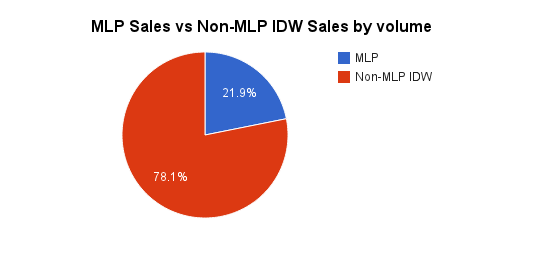 If you get nothing else from this post, understand that MLP accounted for almost 22% of IDW's sales for November 2012 despite 28 other books being on sale. That is phenomonal.
Sales will likely be much lower for December since the first issue of any series gets an automatic boost. There will likely be fewer incentive covers as well for subsequent issues. This first book had many alternate covers that are all grouped together in this data. Unfortunately there wasn't any data available with a breakdown on specific cover popularity or statistics.
Also, since this is the first issue, there isn't much data to compare, but we will have more data to play with in the coming months, so expect this column to expand a bit with each successive month.