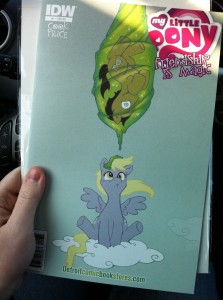 Katie Cook, writer of the new My Little Pony: Friendship is Magic comic from IDW, has posted an auction on ebay. The auction is for an original piece of art that she did for a variant cover of the first issue of the comic. This cover was exclusive to some comic shops in the Detroit area. She announced the aution on twitter:
@katiecandraw:
The original art for my variant cover for MLP #1 is up for sale! item.mobileweb.ebay.com/viewitem?itemI…
The piece is signed and comes in at 11 by 17 inches.