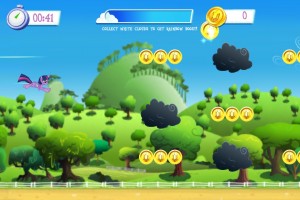 The My Little Pony: Friendship is Magic game for mobile devices is now out in the Apple iTunes app store. The Android version is not yet available as of this post going up but we're expecting it any time now.
You should definitely check out the game if you're a fan of clicking on things and then either waiting really long for something to happen or paying some money to make that virtual accomplishment happen! The game is "free" in a sense that you can absolutely download and play the game for free. You can also use "Gems" to buy special characters, items and buildings as well as to speed up lengthy wait times. You accrue gems somewhat quickly at first but slower and slower as the game progresses. Don't worry though, there's an easy way to get gems! You can pay real money for them!
Other items require money which can more easily be accumulated throughout the game. You can of course spend real money on in game money. Other things are obtained using hearts. Hearts aren't bought with money but instead they can only be accumulated by spamming your friends on Facebook and other social networking sites!
Overall the game is not horrible for what it is, which is a reskinned version of a village simulator game which has already been made a number of times by Gameloft. The reskinning job is somewhat skillfully done. Pony characters have original voice acting by the actors from the show, which is quite impressive. The characters included are a mix of big hitters from the show and fan favourites who are sometimes more obscure. Of course if your favourite happens to be someone like "Silver Spoon" you should expect to spend some real money to be able to get enough gems to buy her.
The game also features many mini games, like bouncing a ball around, collecting apples in a basket or flying around collecting coins. It costs in game money to play games which give you gems and such. You can of course use gems bought with real money to play games better and more frequently!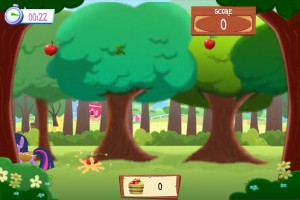 Overall the game is decent for a cow clicker game, but as a cow clicker game it pretty much treats you like a rat in a cage pushing a button for a little morsel of food. These types of games play off of a reward mechanism by reducing gaming to this basic system that is almost completely devoid of an actual game. It's MMO levelling, XBox achievements and PlayStation trophies distilled to the point where only the feeling of accomplishment remains without that pesky enjoying the actual game getting in the way. So play it and enjoy your morsel of food and enjoy giving Gameloft a little bit or a big bit of money if you want to make any significant progress in this game after you hit the inevitable glass ceiling.