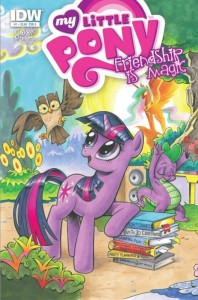 According to BleedingCool, the totals have come in the for the first issue of My Little Pony: Friendship is Magic from IDW Comics. Combining all advanced orders for all the different covers, the book managed to get 90,100 copies ordered. This does not break the all-time record of the X-Men's relaunch in the 90's, but you can just assume that the collective industry is trying to pick its jaws up off the floor right now.
[UPDATE] I wanted to add in a little point of reference. Here are the sales figures for the month of September 2012.
Link.
You can see here that the new MLP book would rank 4th overall for the entire month. That is ridiculously good.