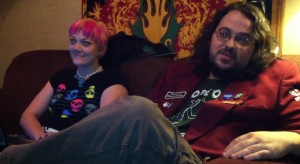 If you caught the comments on the post we made a couple of days ago, you'll see that the two real life Bronies, Tim and Autumin, who appeared on an episode of Jerry Springer this week have responded to ignorant comments by people who think they are fake or paid actors with the following video:
Of course this has done little to settle the controversy as stubbornness and cognitive dissonance are as rampant amongst Bronies as they are in the rest of the population. While Equestria Daily, one of the original promoters of snap judgements after watching a 2 minute YouTube video and ignoring the entire content of the show to return to bombarding the world with fan art, posted the video on their web site, the post remained skeptical of the authenticity of these Bronies and the horde of idiot commenters continued to call out their status as Bronies. How many of these people bothered to actually watch the show, I wonder? It certainly doesn't seem like anyone at Equestria Daily has seen anything but the two minute YouTube clip.

You're all of course free to have your own opinion on this issue, just as you're free to be a total idiot if you still doubt these fine people to be real Bronies. My Little Pony: Friendship is Magic has taught me to love and tolerate every ignorant moron out there, even though they sound like this:
Tim "The ArchBrony" has also posted his reaction to the comments on this video. He also posted an "Ask me Anything" on Reddit which explains quite a bit.