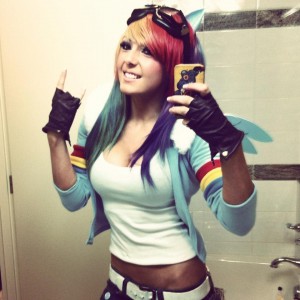 This weekend is Anime Revolution in Vancouver, Canada. In attendance is Jessica Nigri, professional cosplayer and all around cool lady. Today's costume is Rainbow Dash, as pictured above on a photo she shared on her Facebook page.
Her Rainbow Dash costume sure does look better than the one I wore at Botcon last year…
Did you attend Anime Revolution? Did you spot any cool My Little Pony cosplay there? Let us know in the comments!