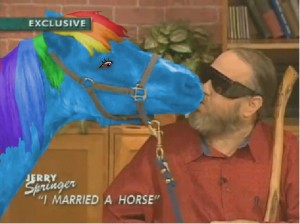 It looks like the Jerry Springer show may be doing an upcoming episode on Bronies and their lovers who object, and some Bronies are pissed! Yesterday the following was posted on the official Jerry Springer Show twitter page:
Are you a brony and your lover objects? Call Gina at 1-877-735-3779
In reaction many fans lashed out, assuming Jerry Springer was planning to mock them, though nothing in the request seems to insinuate anything of the sort. Even Tara Strong came out asking fans not to participate.
Personally I think it would be great if someone well spoken could represent the community on the show and if they had an unreasonable "lover" who objected, wouldn't that be all the better? If you think you can hold your own on the show and fit the bill, give Gina a call! We don't know that Jerry Springer plans to discredit Bronies and even if he did that doesn't mean he'll succeed! I watched Jerry's show for years and welcome this episode. We'll keep you posted if this show idea becomes a reality.