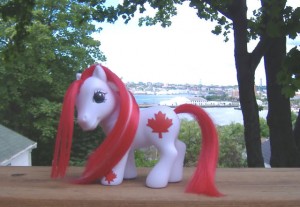 Happy Canada Day to all of our Canadian readers. As is always the case there is a big celebration in the heart of downtown Ottawa, the nation's capital. Performing tonight at around 9pm at Major's Hill Park is none other than "Hey Ocean!", who's lead singer Ashleigh Ball voices Applejack and Rainbow Dash. This is a free concert so just make your way downtown and enjoy the show which will take place before the amazing fireworks display.
Keep in mind this show will not be on Parliament Hill but at the second stage a few blocks away behind the Chateau Laurier, near the US Embassy and National Gallery. This is as good a place as any to watch the fireworks from so no need to relocate after the show unless you really like being crammed in tighter than a can or sardines on a Tokyo subway in rush hour. Check out the full lineup of artists performing today in downtown Ottawa. Parking is pretty much impossible anywhere near downtown on a day like today so you might want to consider public transportation. It's free after 10pm tonight.
Canada Custom Pony by BittieBaby.