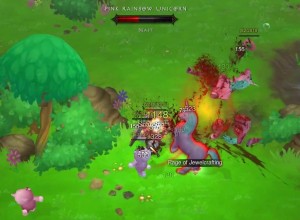 It's a bit of a tradition for Blizzard games to have a secret hidden level included and with this week's launch of Diablo III that hidden level has been revealed as "Whimsyshire" where the hero encounters enemies that are flowers, teddy bears and unicorns in a world filled with rainbows. The unicorns looks a bit like My Little Pony characters.
Looking at the internal data of the game, the names that these unicorns have are sometimes similar to some My Little Pony names. Check out the full list below:
1.0.1.9558 TentacleHorse_A Pink Rainbow Unicorn
1.0.1.9558 TentacleHorse_A_Unique_01 Midnight Sparkle
1.0.1.9558 TentacleHorse_A_Unique_02 Maulin Sorely
1.0.1.9558 TentacleHorse_A_Unique_03 Miss Hell
1.0.1.9558 TentacleHorse_A_Unique_04 Killaire
1.0.1.9558 TentacleHorse_A_Unique_05 R'Lyeh
1.0.1.9558 TentacleHorse_B Purple Rainbow Unicorn
1.0.1.9558 TentacleHorse_B_Unique Nightmarity
1.0.1.9558 TentacleHorse_B_Unique_01 Nightmarity
1.0.1.9558 TentacleHorse_C_Unique_01 Princess Stardust
1.0.1.9558 TentacleHorse_Fat_A Chubby Pink Unicorn
1.0.1.9558 TentacleHorse_Fat_A_Unique_01 Creampuff
1.0.1.9558 TentacleHorse_Fat_B Chubby Purple Unicorn
Midnight Sparkle is an obvious reference to Twilight Sparkle and Nightmarity bears some similarity to Rarity.
Source: The Mary Sue