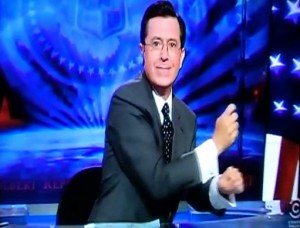 Last year Stephen Colbert gave a shout out to My Little Pony fans. In last night's show, April 9th 2012, he has done it again as he gives a shout out to "all my Bronies". He goes on to say that he doesn't know what it means, but that there are some excited nieces out there.
Here's the clip, recorded by someone who apparently still has a CRT TV:
A poster at the AnandTech message board shares his full account of what lead to the shout out. As he explains, the topic of bronies came up during the warm up, and he mentioned that his niece was into the show.
Americans can watch this episode of the Colbert report on the Comedy Central web site.