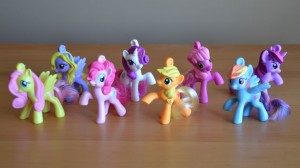 I've gotten my hands on the complete set of My Little Pony: Friendship is Magic McDonald's Happy Meal toys for 2012. These toys are now available in some McDonald's restaurants, with or without a children's Happy Meal. We'll a look at all 8 figures, the key chain accessory they come with and do a quick comparison to last year's similar but not identical Happy Meal toys. This batch includes the main six ponies Applejack, Rainbow Dash, Twilight Sparkle, Rarity, Fluttershy and Pinkie Pie as well as Cheerilee and Lily Blossom. A big thanks to Gemma for picking these up for me.
The toys are of a pretty good quality. The mane is once again plastic but the tail is still combable hair. Most of the toys have at least one leg in the air making it difficult to make them stand on anything but a very flat surface.
Keep reading to see close up shots of the rest of the toys.
Cheerilee, the teacher, was also in last year's set of Happy Meal toys.
Lily Blossom, a fairly obscure choice to include, replaces Princess Celestia.
This optional loop can be added to make a key chain out of your toy.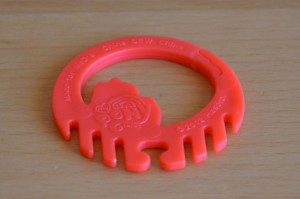 The toys are very similar to the 2011 toys, though the poses are slightly different, this one's model is flipped, as most of them are.