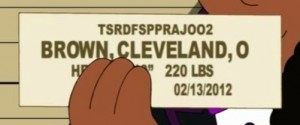 An obscure My Little Pony reference came from an unlikely source this week as what is arguably the worst show in television history, Seth MacFarlane's The Cleveland Show, included a sign with a hidden messages. The letters TSRDFSPPRAJ appeared on a sign held by the Cleveland Brown, the show's horribly unfunny titular character. These letters stand for Twilight Sparkle, Rainbow Dash, Fluttershy, Pinkie Pie, Rarity, Applejack.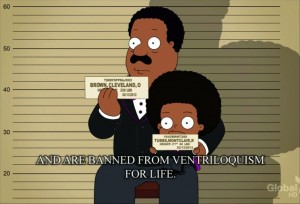 As far as I can gather, from the short part of the episode I could tolerate watching, in the episode "Brown Magic", Cleveland is pretending that his annoying son Rallo is a ventriloquist's dummy, and they go to jail for "four count of ventriloquist fraud" in an abrupt ending sequence that consists only of a few stills. They are holding letterboards for their mugshots which include this message. Note that as they are sitting while taking their mugshots, the height indicators serve no purpose, which is all right, since those numbers would never actually make it into the picture being taken, though they do move depending on the shot. This sort of lack of attention to detail is typical of horrible, horrible shows.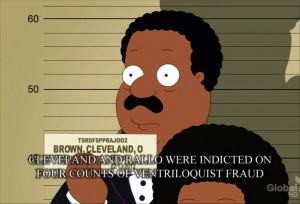 Catch the Cleveland Show on Fox, home of many shows by Seth MacFarlane about a fat annoying man, his hot wife, annoying children and … does Cleveland Show have a talking animal? It must… The show plays Sundays and has been preemptively renewed until 2058.