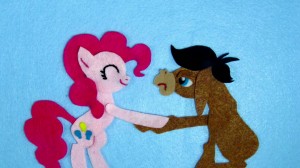 This week's episode of My Little Pony: Friendship is Magic featured a sequence done entirely in felt. Pinkie Pie goes through the steps of meeting and befriending a new resident of Ponyville, and then breaks the 4th wall by bringing a piece of felt from her mind into the "real" world. One of the show's storyboard artists Jocelan Thiessen gives us details on this sequence which you can read in a post on her blog.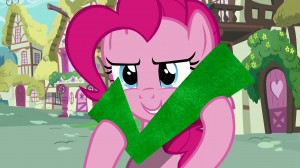 Jocelan, who is experienced with working in felt, cut out all the pieces over the course of a week. Show director Jayson Thiessen animated the pieces in stop motion for the full effect. The end result is truly remarkable. A big thanks to the Thiessens for all their hard work on the show.
We can't share the clip with you, but keep reading for more pictures of the felt designs.