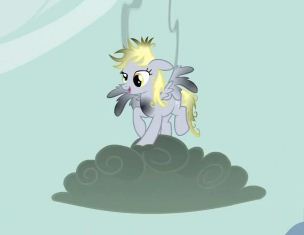 Derpy Hooves, a character that was originally spawned from an animation error giving her googly eyes, has been a fan favorite since she was first spotted. When her popularity in the fandom grew, she was given the name Derpy Hooves by the fans. In the actual show, she had been referred to as Ditzy once, and made several non-speaking cameos that grew as season 2 progressed. Season 2 Episode 14, "The Last Roundup" started with an entire scene featuring the pony in a speaking role, going so far as Rainbow Dash referring to her by the fan-given name Derpy.
The voice actor for Derpy has been confirmed by Jayson Thiessen on twitter to be Tabitha St. Germaine, who also voices Luna, Rarity and Grany Smith.
The fandom is a buzz right now.