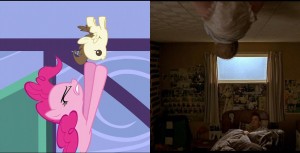 The latest episode of My Little Pony: Friendship is Magic "Baby Cakes" features a reference to Danny Boyle's Trainspotting. Pound Cake, a baby Pegasus Pony, is seen walking along the ceiling in a scene similar to Ewan McGregor's character's heroin withdrawal induced hallucination from the film. Could heavy heroine use explain Pinky Pie's eclectic behaviour?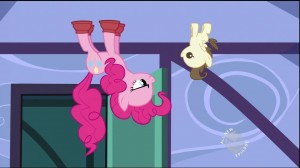 Watch the clip from the film and this week's episode below. Be warned, if you have not seen the film Trainspotting, this scene includes some disturbing imagery not appropriate for younger readers.
Pound Cake on the ceiling from My Little Pony episode "Baby Cakes":

Baby crawling on the ceiling from Trainspotting:

Thanks to Gemma for pointing this one out.